Services done
CONCEPTION CUSTOMIZED OF YOUR PARTS AND TOOLS
Listening and understanding customer needs are the first duties of a designer. Of wealth and quality of these exchanges depends the success of the project.
This is why our team of experienced designers rest listen to our customers by bringing all our capital experience, expertise and innovation to meet the most demanding application.
Understand all the technical data and bring our experience in areas as distinct as the machining of ferrous and non-ferrous metals, plastic or wood, injection, assembly, control is part of our daily lives. This experience was associated with our CAD design software can in a short time materialist project, draw up the plans or send files to all the information necessary to achieve it. We are able to provide all formats most used market as native files IGES/STEP.
Partner for your development, our ability boosts your projects, we participate in all progress tomorrow. Chronomold ensures the development of your new products and optimize your functional and aesthetic pieces.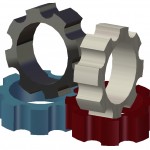 CHRONOMOLD offers :
Technical and sales assistance
Study of parts
Mock-ups and prototypes
Study of tools
Monitoring and testing tools
Check of parts
decoration and assembly
Packing and packaging
CHRONOMOLD will assist you in the design phases of studies and pieces to harmonize the functions better parts and tools. Prototypes to validate your concepts.